---
---
---
---
---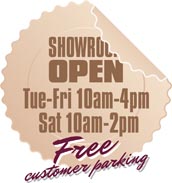 New Hi-Gloss medium Tiepolo
for Mr Brookes, St. Annes
Stunning Gloss Tiepolo oak woodgrain doors, drawers, worktops, cornice and plinths highlighted with eye-catching Brushed-steel square knobs in two complimentary sizes. The doors have evenly large spaced horizontal grooves creating a minimalistic linear look and contemporary feel, the actual furniture units being supplied in Matte Tiepolo oak to perfectly co-ordinate, all accented with rich coloured accessories and decor. A lovely period style property with beautiful existing real maplewood flooring in the main bedroom. Our specification was to protect the existing floor as a priority and carefully remove the old furniture, some of which was to be re-used, to then install the new furniture ensuring that storage was greatly improved and the new furniture positions followed exactly those of the old. We achieved this by increasing the height of the new wardrobes to incorporate top area storage and provide his and hers double-hanging facilities,
shirts above trousers and blouses above skirts and managed to follow the existing floorline border to the absolute millimetre, much to the delight of our clients. As an added touch we re-positioned three electrical sockets and provided a new aerial socket for the focal point of the room, a huge new flat screen T.V. we even fitted the T.V. Bracket ! To complete the project we supplied made to measure toughened clear glass worktop protectors, the final result a Superb Bedroom with masses of extra storage, professionally fitted to our clients exact requirements, a project we are very proud of indeed, but more importantly one our clients
will enjoy for many years to come.
Testimonial
---
" Thank-you Perfect Harmony, your attention to detail, instantly evident on the drawings you provided and during our dealings with you prior to the project commencing, just confirmed in our minds the wise decision we made in placing our order with a well established Local Family Company such as yourselves, stress-free, fuss-free continuity of work, and for us, a truly fantastic result ! We would thoroughly recommend you, once again Big Thanks and well deserved ! "