---
---
---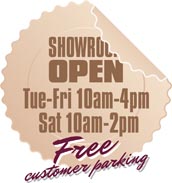 Cream & Pale blue Distressed Oak
SHAKER REAL WOOD DOORS
for Mr & Mrs Thompson, Lytham
An Edwardian property overlooking the golf course needed something special but affordable. After scant graphic computer design illustrations were done by a National builders merchants and a £40,000 inflated price given by a reputable brand name specialist, Mrs Thompson came to us looking for some " Help and
Inspiration ". Although tentative at first and very under time pressure to place a deposit with the other companies as " the sale was ending today at 4pm "
She asked her husband to have one last look at us as she had immediately been impressed on visiting our showroom. He came along later that day and Instantly recognized genuine " Experience, Sincerity and Advice ".
After a few visits to their home, patient discussions and deliberations, beautiful hand drawn plans were produced showing great attention to detail which convinced them
They were in the right hands.
Just before placing their order with us, a decision they had made purely at their own pace, they were distracted by the builders merchant ringing up and saying that although they had " missed the sale " they could actually now do the job for an extra 20% off !!! And the branded supplier rang also and said they would drop the price to £20,000 if they chose from their " budget range !!! How unbelievably unreal, needless to say none of these " offers " were entertained !!!
A deposit was placed and three weeks later we arrived on the day agreed and eight days later the result, a superb " Cream and Pale Blue distressed Real Oak wood " painted traditional Kitchen was complete. A stunning "Enhancement to their Property ".
During the three weeks everything was being manufactured we provided un-compromising project management working closely with their chosen builders, plasterers, electricians and tilers marking out things on site and giving advice, as and when needed, to all of them. Many of them commented on how we were always available to "Talk to ", how " Nothing was too much trouble " and that they had " Rarely Experienced " such perfect continuity of all the trades work.
" Real People " " Real Delight " " Real Service " " Real Experience " We also installed three bedrooms for them as well, all brilliantly fitted and right first time.
" Excellent " they said............... We can't say anymore except, "What a pleasure to deal with such a wonderful family............. Thanks for the Champagne & your Lovely Words in your thank-you card " That really makes a difference to us to get such welcomed acknowledgement for our efforts.
Testimonial
---
" Fantastic Product - Fantastic Service - Surely a level all companies should aim for! We are more than pleased, that's just not praise enough, we are absolutely delighted !!! " Well done Perfect Harmony, Just Brilliant !!! "