---
---
---
---
---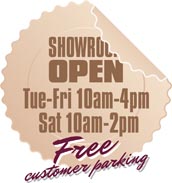 Smooth Hi-Gloss Red & White
SLIM LONG BAR CHROME HANDLES
for Mr & Mrs Noblett, Eccleston
Glory, Glory, Man United ! A young guy and avid united supporter could not resist having his bedroom " All Kitted Out " in the Famous Red and White of his beloved Team !
The Third of three superb contemporary made to measure bedrooms fitted for the teenage son this time of the same lovely family we previously mentioned. Again their builder removed all the old furniture and their electrician followed our precise front elevations and floor plans closely as he had in the other two rooms. The design was similar to that of his sister but this time we faced a different challenge, our specification had to include the concealment of a slim floor to ceiling chimney breast area. We overcame this problem
perfectly by " off-setting " the large flat screen T.V. to the left of the chimney breast and using the space to the right in front of the chimney breast to provide a storage solution for all his CD and DVD's on shallow shelves all spaced exactly to suit his collection. We added more shelves in front of the chimney breast in the adjacent wardrobe for all his folded up items like t-shirts and sweaters and with back panels included this idea craftily hid the entire chimney breast from view whilst not wasting any space at all !
As a extra design feature we manufactured special width drawer boxes to fit snugly down the side of the chimney breast but fitted the drawer boxes with wider drawer fronts so the symmetry externally of the design was not spoiled, Job well done, you wouldn't guess the chimney breast even existed !
A beautiful LED spotlight header in Hi-Gloss white above all the doors, some of which have full height inset mirrors,creates a floodlight feel and great atmosphere when his Best mates are round " watching the footy "
To complete the Design a "Dedicated Desk Unit", a bit higher than normal to suit him individually, was enhanced with a " black tinted " toughened glass work-top protector, "Very easy to clean if the beer gets spilled as they always jump around like crazy when United score ! " Mum said. Matching two and a half drawer high " freestanding " Bedside Chests completed the look and we made them at just the right height to compliment his Ultra New Faux Leather Bed.
Testimonial
---
Mum and Dad said " He's chuffed to bits with his new Bedroom, it's a great space to spend time with his friends, His new girlfriend loves it too ! Although it's definitely a movie with her as he daren't put the footy on !!! " Lads will be Lads but when they're with the Ladies they must behave !!!