---
---
---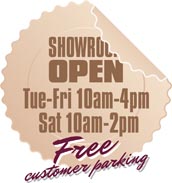 Pure White Ash Woodgrain
BESPOKE POLISHED SILVER MIRROR SLIDING DOORS
for Mr & Mrs Williams, Cleveleys
A Mature couple, Christine and Bill, quite obviously afraid of the open market place, sought a sincere recommendation from long term friends who had recently had three bedrooms installed by ourselves, one of which was a bespoke sliding door fitment. Having heard the " Good Word " we received a invite to their home, a fact finding 45 minute measure up took place, we listened closely to their needs and encouraged them to visit our lovely showroom where all the colours and styles of what they wanted were on show. Prior to their visit we made sure we had completed a detailed hand-drawn diagram and precise costing so during their visit we could present them both with all the information they wanted and hoped for. We gladly let them consider what we had presented and the following day Chris rang to make arrangements to come to the showroom to place their order, we suggested they place their deposit by credit card to give them extra free security, although we are a long established family business and have traded for many years and also in
association with Lancashire County Council's Trading Standards office, specifically their " Safe Trader Scheme " we felt this would give them added peace of mind.
Bill said " we have seen your work at our friends home and whilst you are not the cheapest, they are very happy with your product quality and service, however, I appreciate you only get what you pay for and I don't want a sub-standard job so I am more than happy to give you our order. " We fulfilled our promise to them, turned up on the day we had agreed and a short time later the project was complete, much to their satisfaction. A Beautiful four door sliding Mirror panelled wardrobe was the end result of our three day
Installation incorporating much improved internal storage and increasing the internal depth to provide proper adult clothing hanging space. Bill decided to remove the old fitments before we came as he was " off work " he said and " needed the exercise " Chris said, although, we offered and would have gladly done this for them for a nominal sum.
Chris is delighted and can't thank Helen, her friend, enough for putting her in touch with us, says it all really, and that is what friends are for. We are happy, Our valued clients are happy, Chris and Bill's friends are happy - Spreading Happiness Everywhere - That's Perfect Harmony !!!