---
---
---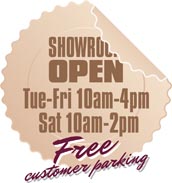 Hi-Gloss Ivory and Beige
MINIMAL STYLE DOOR & DRAWERS
for Ms. Horton, Lytham
Over a decade old, but still a very much appealing Modern Mews house, bought by a lovely lady on her own, her dream move from her old bungalow which she had just " out-grown " over the years. She visited our showroom with her brother and sister-in-law " her gang " she wanted to feel safe and was not about to be " bamboozled " and just " sold to " she needed a tender and caring approach. We listened to her budget limitations and " wish list " . A few days past, but now confident that her new home purchase was imminent, she invited us to her home so she could view our " Hand Drawn Plans " She loved what she saw, everything on her " wish list " was included and more importantly at a price she could afford. Prior to our visit, without fuss, we researched all the information on her appliance requirements, sink & tap preference and manufacturing our own cabinets and supplying quality bespoke doors we were pleased to be able to satisfy her " exact needs " including specially fabricated laminate work-tops to suit her choice of a curved base cabinet. She saved money by having matching work-top up-stands instead of choosing wall-tiles which are always hard to clean !
In two and a half weeks we removed the old " green yuk cabinets " ( her words ) did all the electrical alterations, plastered where required, supplied & laid her choice of polished beige large porcelain floor tiles and then installed a " Beautiful Hi-Gloss Ivory Kitchen accented with subtlety positioned Hi-Gloss Beige doors and drawer fronts " including " Black Appliances " and a toughened black glass splash-back behind the hob.
We even did the decorating too ! Perfect continuity of work and Project Managed every step of the way, a fact she really appreciated as, she was busy working and just could not afford the time to keep her absolute eye on how things were progressing, she needn't have worried, .........." We " ........Never Let Her Down Once!
A " Stunning Project "...... One Very Happy Lady.............. She Sent Us flowers !!!! ....... We Sent some Back !!!!...... welcoming her into her new home and as a genuine thank-you for trusting us so completely. She talks about us all the time ! We appreciate that, because, it's always the lovely people that make the difference to us !!!............ She's proud to say " Perfect Harmony provided a Real Value for Money Quality Product with Brilliant Service which included Real Project Management, They accomplished and fulfilled all my expectations and every promise they had made and allowed me to move in right on Deadline Day "